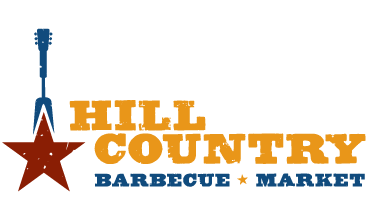 SITE CRITERIA:
Prefer street level combined with lower level space
Outdoor seating is preferred
ABOUT HILL COUNTRY BARBECUE MARKET:
Hill Country honors the barbecue and live music capital of Texas and takes its "cue" from the legendary meat-markets-turned-barbecue-joints of Central Texas with their distinctive, dry-rub style. All barbecue is cooked fresh daily on premise in a custom meat-smoking room. Brisket, sausage, ribs and other meats are smoked low and slow over Texas post oak and are served on butcher paper, counter-style by the pound as is traditional in Central Texas. Updated versions of classic Southern sides and sweets, created by executive chef Elizabeth Karmel, include Longhorn Cheddar Mac & Cheese and Peanut Butter & Jelly Cupcakes. Hill Country features a marketplace full of Lone Star State favorites such as Kreuz Market sausage, Big Red soda, and Blue Bell ice cream. The bar offers a wide selection of long-neck beers, tequila, bourbon, and specialty cocktails.

Hill Country doubles as a performance venue, with performances that include frequent visits from national touring acts. The stage at Hill Country, with its state-of-the-art sound system, has welcomed legendary artists such Dale Watson, Heybale!, Bob Schneider, and Rosanne Cash. Many of Hill Country Live's performances are free to the public.