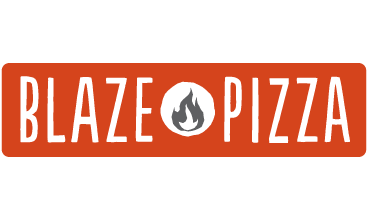 LOCATIONS DESIRED:
IL - Gurnee, Vernon Hills, Oak Brook, Naperville, Downers Grove, Wheaton, Bloomingdale, Deerfield, Geneva, Algonquin, Buffalo Grove, Rockford
IN - Schererville, Merrillville, Valparaiso, Munster
SITE CRITERIA:
Minimum 30 feet of frontage
Corners & end caps and exclusive outdoor space with 25 seats preferred
Must be able to vent for steam and heat exhaust
Prefer 2+ signs plus monument or pylon
20,000 per day average traffic
Zoning to accommodate for beer and wine
Drive-thrus are required
ABOUT BLAZE PIZZA:
Blaze Fast-Fire'd Pizza serves artisanal quality, custom-built pizzas in under 2 minutes at a very affordable price.

Each pizza starts with a perfectly proofed dough into a generous 11-inch personal sized pizza crust. Blaze's menu offers 8 signature pizzas, giving customers a suggested starting point for their perfect pie, making ordering fast and easy. Guests step to the counter and oversee their pizza's construction — Blaze's assembly line format allows guests to customize signature pizzas or create their own from a variety of fresh toppings ranging from inventive (marinated artichokes, gorgonzola, roasted red pepers) to classic with a contemporary twist (ovalini mozzarella, cherry tomatoes, sauce drizzles and dollops). Blaze then sends each pizza to an open-hearth oven to be fast-fire'd. The blazing hot oven, with a three-sided flame, is the key to Blaze's quality and speed of service.

Blaze Pizza is "defining a new restaurant category" according to Forbes and was named one of Business Insider's " 5 up-and-coming fast food chains taking over America".