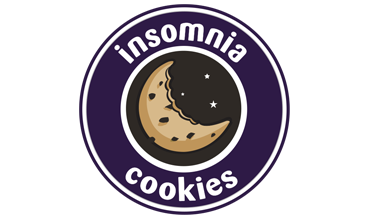 LOCATIONS DESIRED:
River North, South Loop, Wrigleyville
SITE CRITERIA:
Need Type II Venting
ABOUT INSOMNIA COOKIES:
Insomnia Cookies offers a variety of cookies delivered warm from the oven. Retail stores open at 9 am and delivery hours are 10 am to 3am! Primarily serving college students and the late-night crowd, Insomnia Cookies also offers nationwide gifting options and a catering menu for businesses, parties and other events.

Standard cookie flavors are Chocolate Chunk, Double Chocolate Chunk, White Chocolate Macadamia, Oatmeal Raisin, Snicker¬doodle, M&M, Peanut Butter and Double Chocolate Mint. Insomnia Cookies also offers deluxe size cookies. These colossal treats are more than double the size and twice the taste of regularly sized cookies. Deluxe cookie flavors are Triple Chocolate Chunk, Chocolate Peanut Butter Cup and S'more. In addition to cookies, Insomnia Cookies' menu includes brownies with a choice of top¬ping baked on top and nine-inch cookie cakes for those special occasions. And don't forget, the requisite pint of cold milk is available with any order.