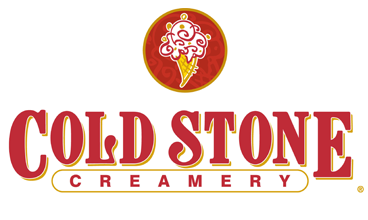 ABOUT COLD STONE CREAMERY:
Cold Stone Creamery® is renowned for offering super-premium ice cream for more than 25 years. People everywhere recognize the quality associated with the Cold Stone brand. Cold Stone Creamery ice cream is categorized by industry experts as "Super Premium" and made fresh every day in every store, which puts Cold Stone® completely in a class of its own.

Cold Stone Creamery if proud of their heritage as Ice Cream Innovators and honors the tradition of continuously redefining plain old regular ice cream into something truly extraordinary. Cold Stone calls every ice cream they serve a "Creation™" – because each one is a work of art. Freshly made, smooth, creamy ice cream blended on a frozen granite stone with endless combinations – fruits, nuts, candy, cookies, brownies – customers can mix in to their heart's content. If the ice cream weren't enough, the Cold Stone menu offers milkshakes, smoothies, frappes, frozen yogurt and sobets as well as ice cream cakes, ice cream cupcakes, ice cream cookie sandwiches and ice cream pies.  

Cold Stone Creamery is owned by Kahala Brands, one of the fastest growing franchising companies in the world with a portfolio of 18 quick-service restaurant brands.